Reporting from Spring Trunk Show & Happy Hour 2023
We hosted our first-ever trunk show to showcase some of our favorite vendors and their latest products that make the perfect corporate gifts for our clients. We're here to bring you a report of our favorite moments, standout products, and more.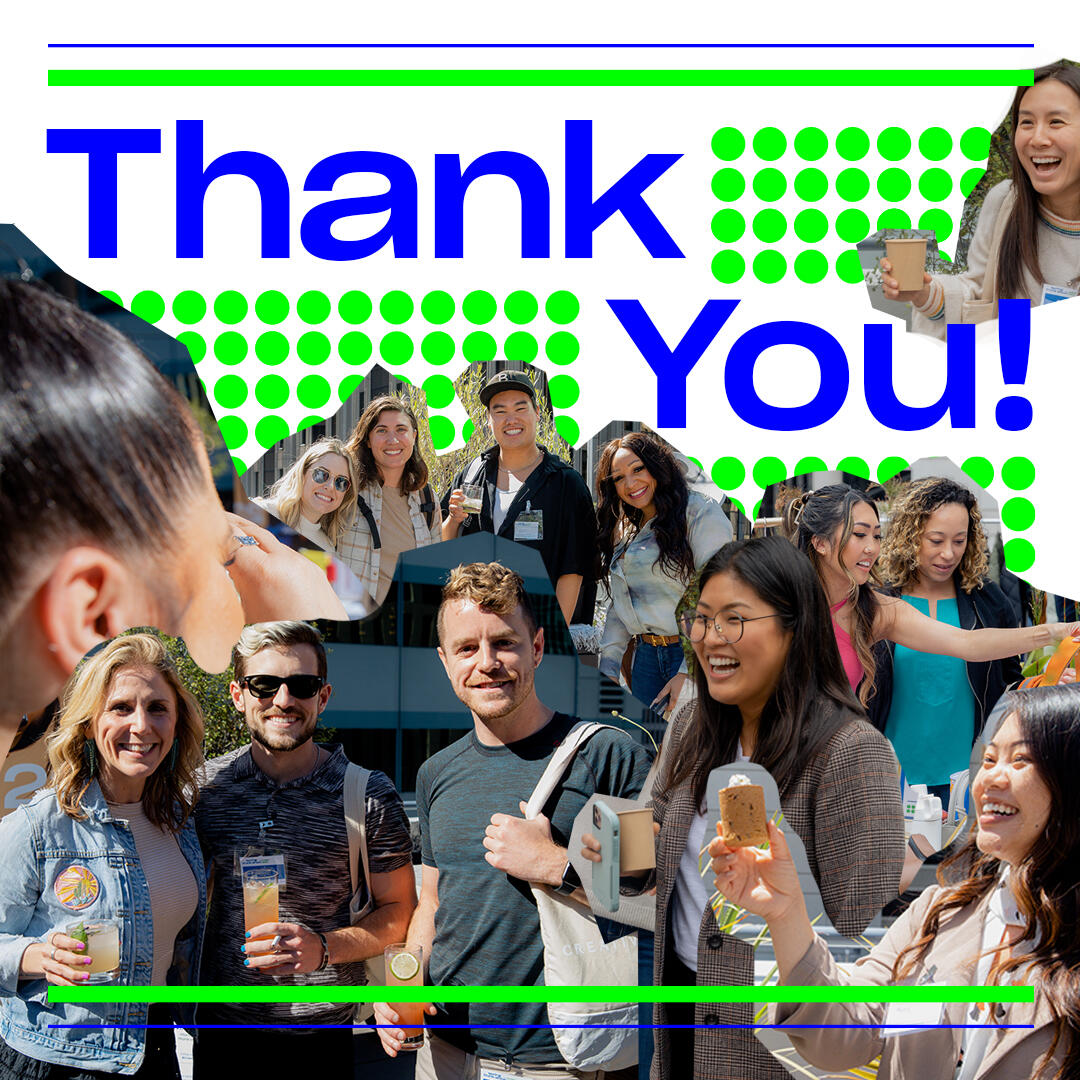 It is one thing for our clients to learn about corporate swag trends from our brand stylists, to delve into our lookbooks bursting with products aligned to our heavily-researched seasonal trends, and to receive select product samples. It is another opportunity entirely for them to interact with our vendors and the stylish products themselves. That's just what our clients experienced recently during our first-ever Trunk Show and Happy Hour.

The show, held at the raved-about Newhall Nest Penthouse in San Francisco, featured 12 of our favorite and most in-demand vendors: W/GOOD, Gemline, Fellow, Marine Layer, Maison de Sabré, Brevitē, Day Owl, Flip & Tumble, Sock Club, Barika Bakes, The Qi, and Dirty Cookie. Our clients were guided from vendor to vendor for discussions of project capabilities, interactive demonstrations, and opportunities for tactile experiences with newly-launched seasonal products or brand favorites perfect for corporate gifts.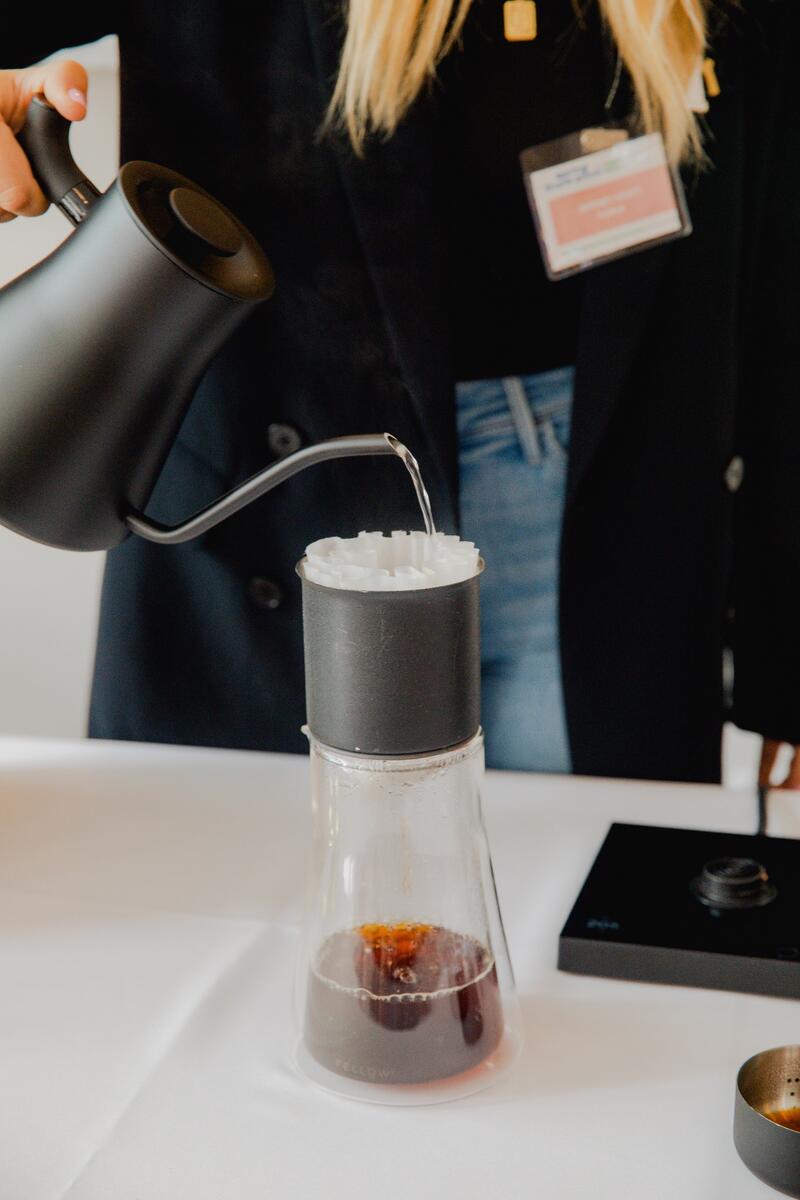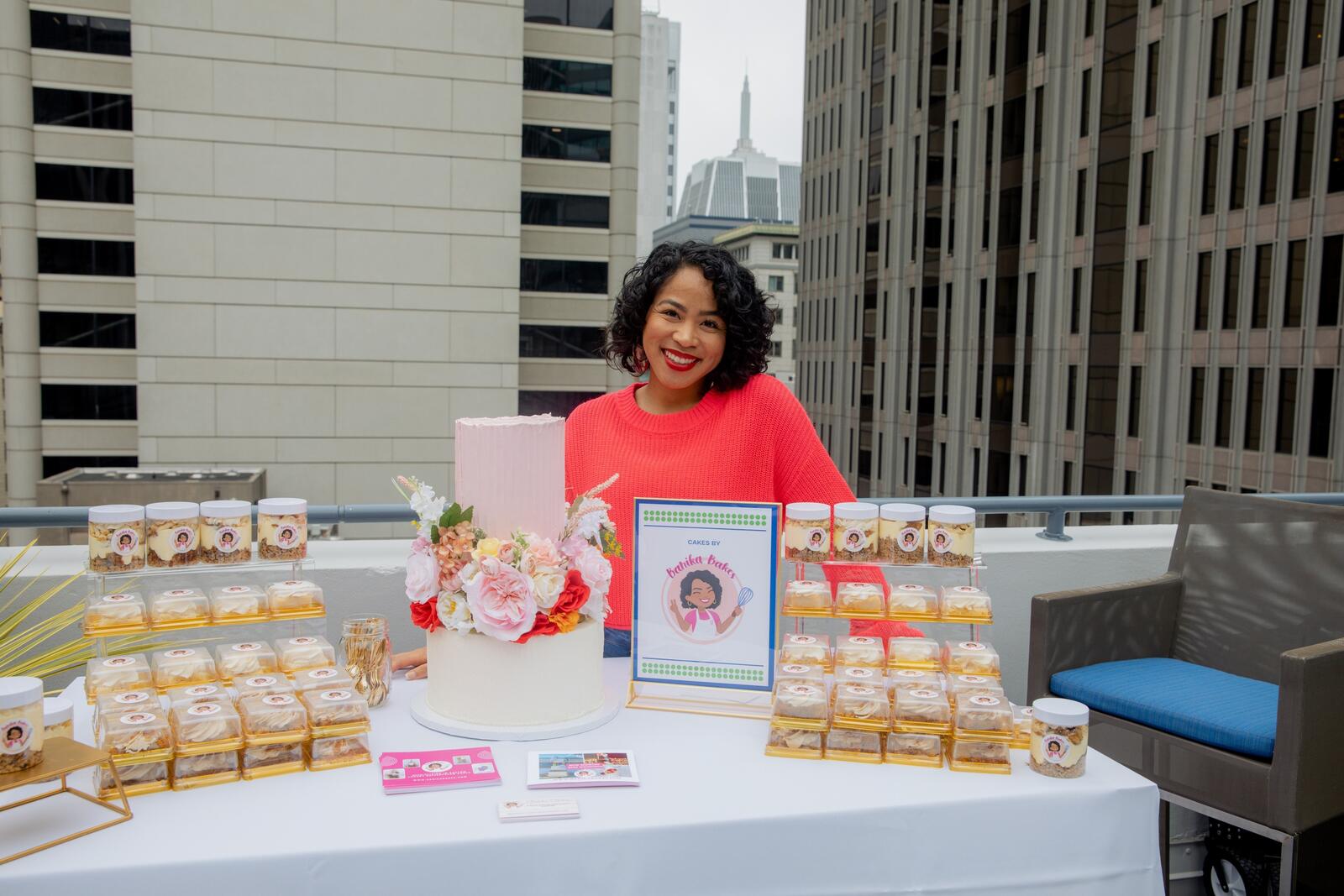 We've put these products in our lookbooks so many times, but until they are able to see and feel them in person, our clients may not understand the possibilities for their brand initiatives."
Here's what our clients, vendors, and CreativeMCers had to report back about our engaging and informative trunk show:
Favorite Products, Brands & Materials
Clients appreciated our dedication to showcasing brands and products from women-owned brands, brands from those in underrepresented communities, vendors with giveback programs, and eco-friendly products. W/GOOD, a wholesale marketplace for the world's most authentic and emerging brands, displayed Parker Clay, a vegan leather bag company that employs women in Ethiopia and provides training, pensions, health care, paid time off, and access to transportation to and from work. By purchasing bags from Parker Clay, you are helping a whole community thrive.
It is also the first time many of our clients had the opportunity to actually feel many of our vendors' eco-friendly products. Some people may have a negative perception of recyclable materials, imagining a product made of recycled bottles may lower its quality. To then actually be able to touch a blanket made of recycled materials and think, 'Oh, I would actually wrap myself in that,' is an invaluable experience."
Business & Pleasure Co. displayed through W/GOOD, showcased luxurious, vacation-ready gear like throw towels and chairs, which clients were excited to learn could be branded with their logos. One of our law firm clients gained inspiration for an event at an Italian restaurant here in the Bay Area this summer after falling in love with our Lush theme from the Spring/Summer 2023 Lookbook: Confidence Meets Rejuvenation and the brand's bountiful color options.
The Sock Club, our go-to sock vendor, offers a variety of designs from athletic to fun and stylish patterns, which can be customized to match brand colors and designs. Our clients gravitate towards utilizing socks as gifts as they don't have to collect sizes and can expedite orders. A client who attended the trunk show was looking for baby onesies for a project but fell in love with the idea of using The Sock Club's baby socks.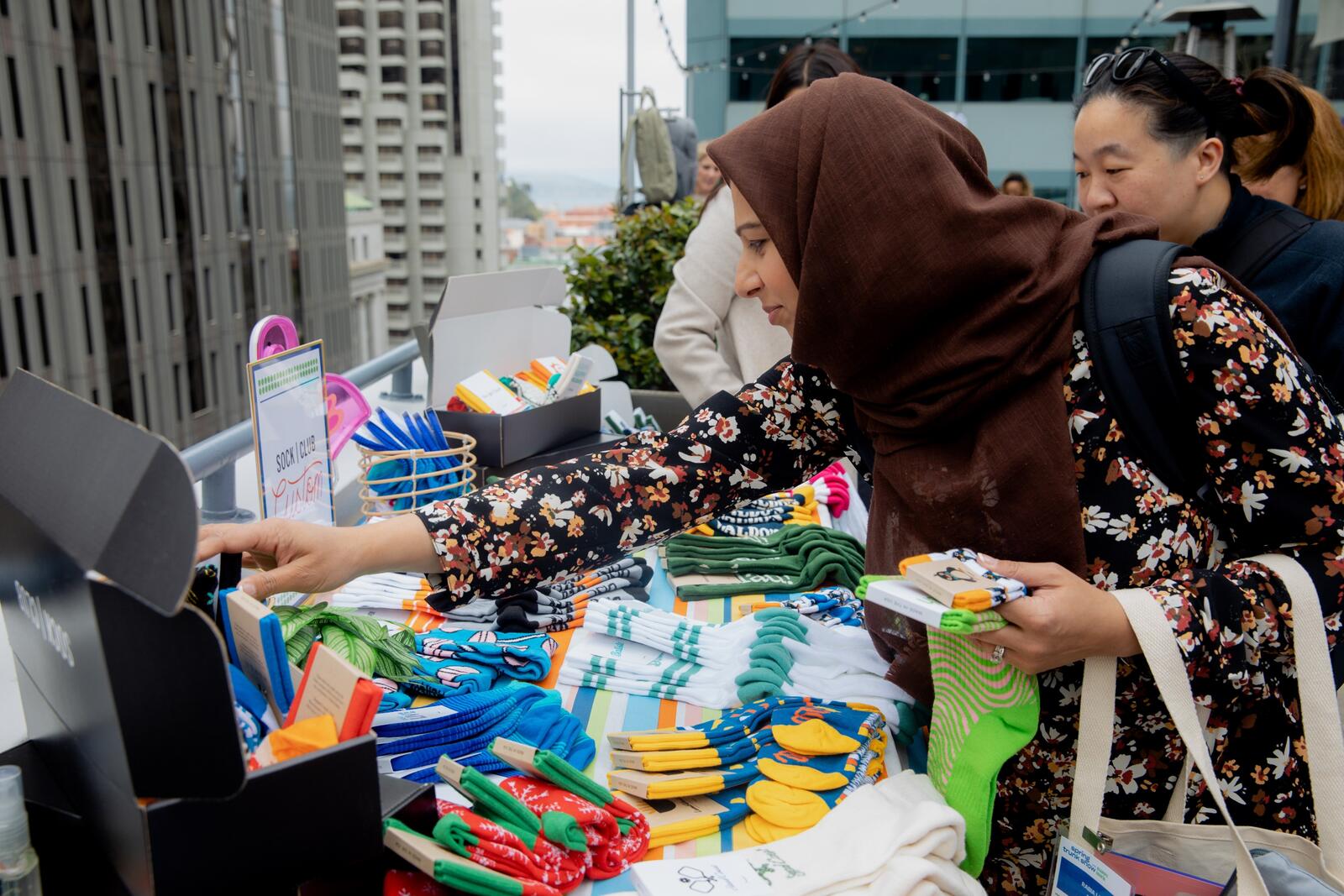 Who doesn't need a tote bag? Flip & Tumble presented a tote bag that condenses into a tiny ball, as well as a roll-up backpack and produce bag.
Marine Layer's soft fabrics that felt like a cloud were universally loved by our clients. Other hit items included Fellow's Carter Cold Tumblers and Mugs with new lid configurations; Soma, a Bay Area brand that makes sustainable water bottles; and Sunski sustainable sunglasses.
Excitement Over Virtual Solutions & Customized Fulfillment
One of our most popular displays was our estore and customized fulfillment solutions. Clients were excited by the ease and convenience of the virtual store solutions, whether it is a pop-up shop or full company store, both of which are seamless ways for our clients to deliver gifts on a global scale. We can set up a pop-up shop in a day, and all our clients need to do is share a link with the recipients, and we can handle everything else through our distribution center. Through our virtual stores, we can also segment products by department or team so our clients can administer different gifting programs.
We also showcased our customization options, and our clients were thrilled with the plethora of options that could be personalized – boxes, tapes, cards, and more. Even for those that had worked with CreativeMC before, our estore and fulfillment display created a buzz and discussions of what could be done in customization in kitting and fulfillment.
It's not as daunting as people think to start an Estore. We can start small and get creative, and we can even do print-on-demand items so we don't have to buy a large inventory. We want it to be as fun and easy as possible for our clients."
Many of our clients are interested in virtual store options since our trunk show. The University of California's Mathematics, Engineering, Science Achievement (MESA) is interested in developing an estore and selecting travel-related products for its members who travel frequently for work.
Creating the Vibe
To add to the energetic atmosphere of the Trunk Show, we placed gold stars on the bottom of products throughout the indoor-outdoor venue. When a client picked up a product with a gold star, they could pick a product from our Instant Win table with a broad array of our favorite corporate swag items. The Patagonia sling bag was the most popular item chosen by the winners.
We raffled off prizes to give guests even more chances to win corporate gifts. Winners received every item on the Gemline table and on our CreativeMC trend display, which featured some of the most loved items from our Spring/Summer 2023 Lookbook. Several of our vendors also donated gifts to raffle off, including a Maison de Sabré backpack, a Rains puffer jacket, and a Sackcloth & Ashes wool throw.
We gave each guest a goodie bag featuring some of our vendors' products, including a sustainable tote from Gemline, a Flip & Tumble roll-up backpack and produce bag, a Fellow 8oz. Carter mug, a Spring/Summer 2023 lookbook, and custom Sock Club socks inspired by the Lush trend in the lookbook.
While it was a valuable opportunity for our clients to meet our vendors and experience our favorite products, it was also a chance for our CreativeMCers to meet clients in person – several for the first time! While exploring Newhall Nest Penthouse, our clients, who were majority women, also mingled with each other, creating organic networking opportunities and a festive environment."
In line with CreativeMC's majority female demographics, we also provided catering from women-owned Salt & Honey and a female bartender created cocktails with edible flowers from The Qi, a woman-owned brand. Another female founder brand, Dirty Cookie, provided cookie shots that could be paired with Bailey's, oat milk, whipped cream, or sprinkles.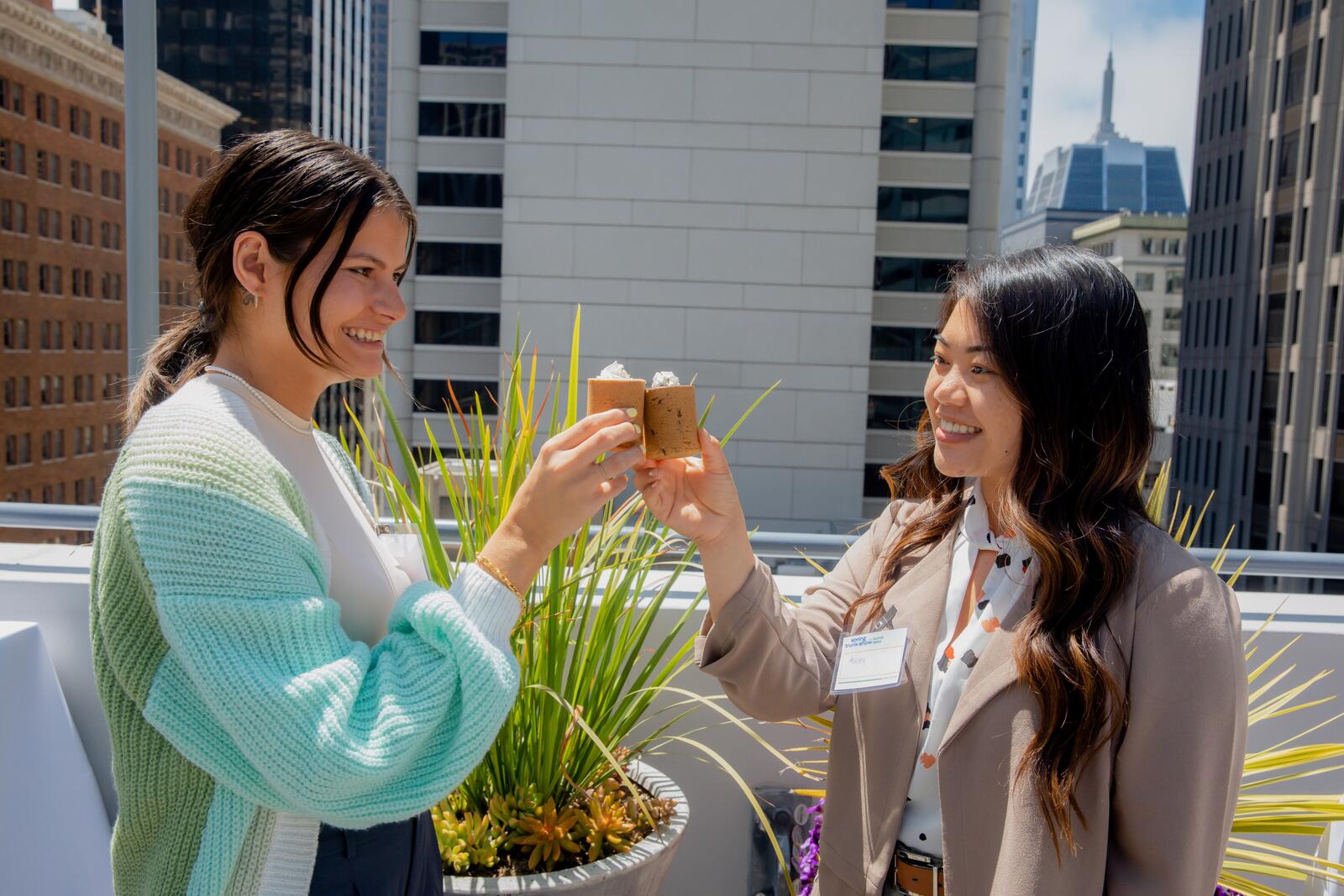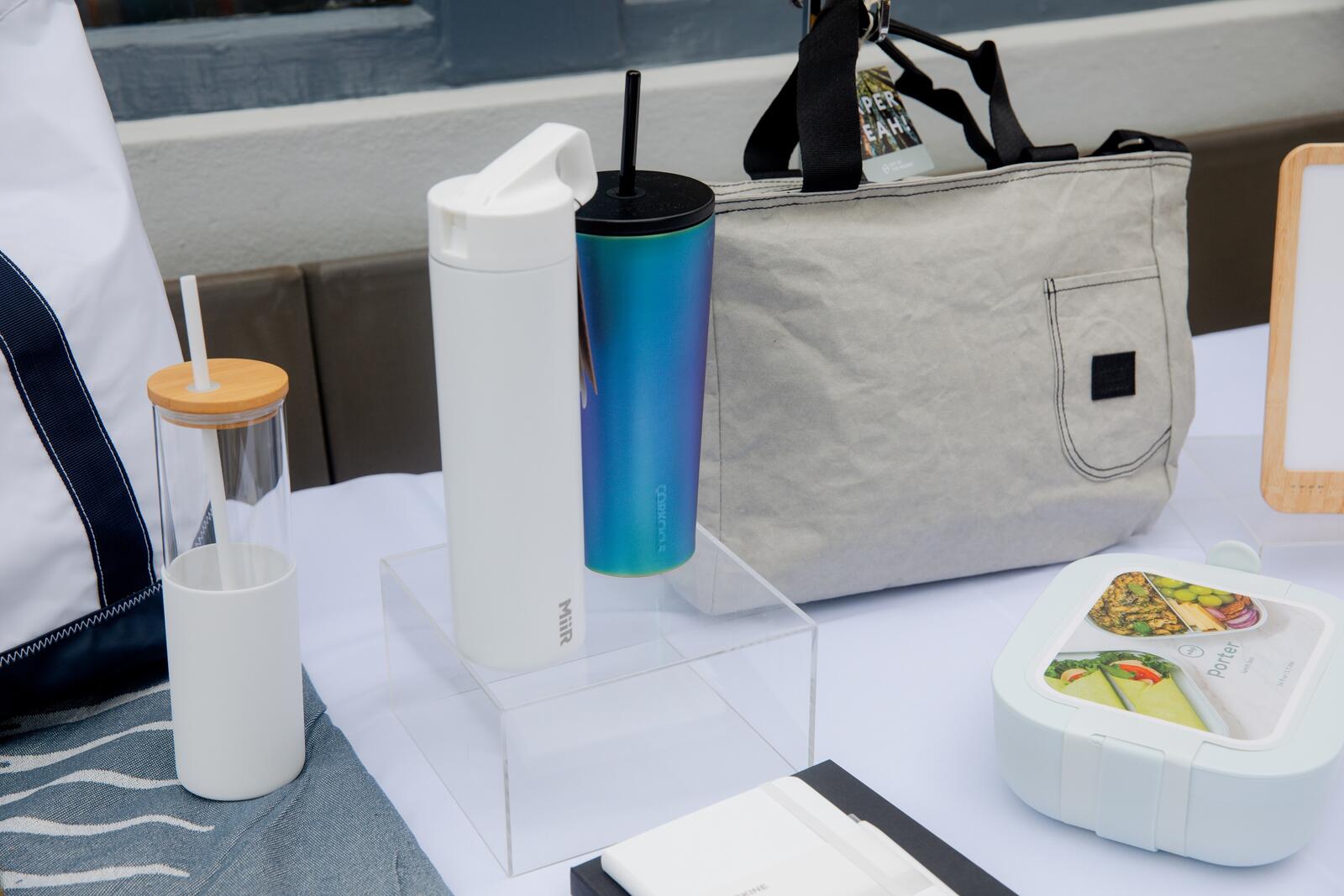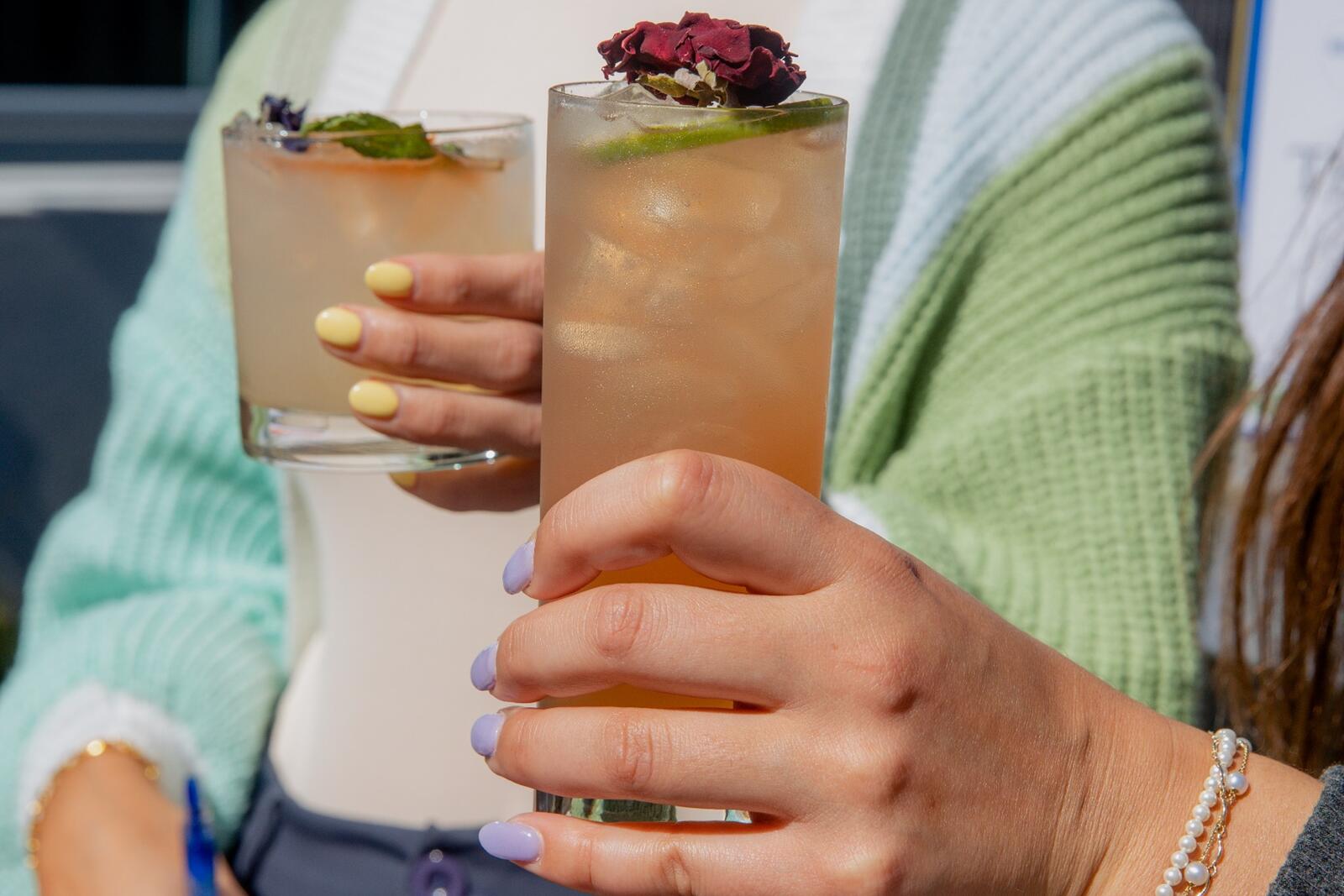 Our clients and vendors left our first-ever Trunk Show with valuable interactions armed with project ideas, corporate gift finds, and newfound connections. Even more – they can't wait for our next trunk show.
SUMMARY
We recently hosted our first-ever Trunk Show and Happy Hour featuring 12 of our favorite vendors: Dirty Cookie, Barika Bakes, The Qi, Sock Club, Flip & Tumble, Day Owl, Maison de Sabré, Brevitē, Marine Layer, Fellow, Gemline, and W/GOOD.
Across the plethora of brand and product options, clients loved our dedication to representing brands owned or led by women and those from underrepresented communities, brands with giveback programs, and sustainable products. Some favorite brands were Marine Layer, Business & Pleasure Co., Flip & Tumble, Rains, and The Sock Club.
Our clients were able to meet vendors in person for discussions of project capabilities and experienced products first-hand, while also networking with others in similar roles across industries, creating a lively environment at the Newhall Nest Penthouse in San Francisco.
Clients were particularly excited to learn about our virtual stores and customized fulfillment solutions, and many clients are pursuing estores in the wake of our trunk show.
We gave away products through our Instant Win table, raffles, and goodie bags, ensuring every guest left with samples of our favorite corporate swag.