Productboard Builds Culture Through its Global Swag Program
To foster a sense of community during the pandemic, we connected with Productboard to create a thriving international swag program fully equipped with a global e-store.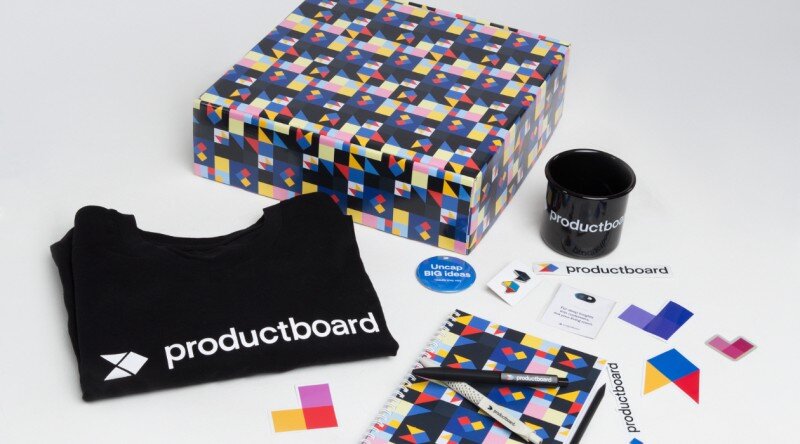 How did the project come about?
The high-growth product management software startup Productboard has offices in San Francisco (headquarters) and Prague, as well as elsewhere in Europe, the UK, and Canada. While our relationship started with CreativeMC producing swag for the top management in the Bay Area, the company's vision was to create a program for the entire company. Since a majority of Productboard's employees are in Prague, we brought in our BFP team to connect with them in the Czech Republic. First, we made their new hire Welcome packs, which presented the swag in branded backpacks instead of gift boxes. The success of this project inspired the creation of a few pop-up stores for different occasions (e.g., Pride) and collections for different internal teams (e.g., developers). Utilizing our virtual store platform then led to our current project: a global swag e-store, which launched in December 2021. The program releases two stunning collections per year, as well as promotional products for various ad hoc projects. Different teams, including GTM for HR, Sales, and Office managers, access different product options for enhanced relevance.
What was the client's objective with the swag program?
The idea for a global, virtual swag platform emerged during the pandemic when everyone worked remotely and the company needed a way to reinforce the company culture and a sense of belonging. This solution addressed a practical issue: employees had to "shop" for swag online and securely provide private shipping addresses and key information like apparel sizes.
What challenges were involved in the project?
The success of the swag program mirrored the success of the company: as it grew month by month, items sold out faster than expected. In addition, re-orders were more complicated during the pandemic because of longer lead times and stock issues. Even as employees were happy to wait for their swag, our team focused on finding ways to shorten the manufacturing process, such as creating logo patches for apparel that could be more quickly stitched on to items.
Who's the target audience?
Productboard employees in the US, Canada, UK, and Europe.
What solutions did we provide?
A fully customized global e-store platform, including Productboard branding, different store views for various teams and markets, and other features tailored to the company's requirements. The store is optimized in real-time, with new collections and product updates accessible from offices worldwide. This solution enables us to quickly implement fresh ideas, as well as swag to showcase Productboard's successes and new initiatives with global impact. For example, to celebrate Productboard's incredible milestone as a company with a valuation over $1 billion, we created a special "unicorn" swag collection for employees to wear with pride.
From which region did we manage this project?
To provide streamlined service, BFP in Prague is the primary account manager. In addition, the Czech team is in constant communication with its CreativeMC colleagues in the U.S. to review product ideas and to ensure that each project is optimized in terms of cost- and time-efficiency.
What was the business result or impact? What does the client appreciate most about our services?
Once the e-store launched and the merch reached the team, employees organically started adding photos of themselves wearing it in Slack. This created a true sense of community. While gift vouchers for various retailers had been the internal gift "currency," they were soon replaced by company swag. On a practical level, the e-store solution was easy to administer. The client could streamline all aspects of the program, from product updates to on-demand orders to a points-based loyalty program. It also created a vehicle for quickly engaging employees in key shared successes and individual milestones like birthdays. The program has become such a cornerstone of Productboard's culture that the primary client who oversaw the creation of the program, David Petricek, has been officially named the "Father of Merch" in addition to his role as Manager of Workplace Experience!
Find more information on our Global Capabilities here