SpaceTech Day With Astra
We received the opportunity to work with Astra to create special t-shirts for the celebration of Space Day.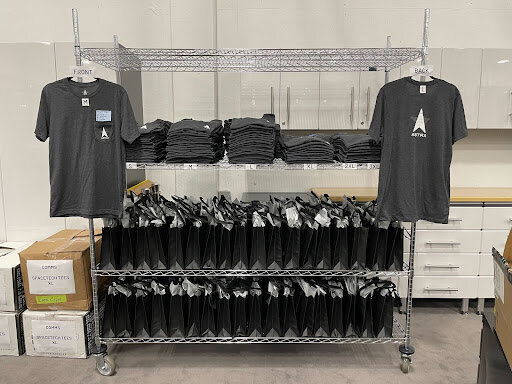 How did the project come about?
The client wanted to get shirts for SpaceDay! They approached me asking for t-shirt ideas.
What´s the purpose/objective of the project?
To celebrate SpaceDay and give away the t-shirts to VIP attendees and Astra employees.
Who´s the target audience?
VIP clients including Gavin Newsom and other important folks.
Why did they pick the products they ordered?
The quality and well-known name of the brand. The added pocket on the shirt.
What problem/challenge is CreativeMC solving for the client?
Sourcing high-quality products including high-quality decoration. This client is very particular about their printing and embroidery. Also, they appreciate our availability and quick turnaround timelines.
Are they using a virtual pop-up shop, company store, fulfillment, or other distribution services? If so, which?
Not for this project but we do have an e-store/Shopify and we have done fulfillments multiple times for this client.
What was the business result or impact?
All attendees and employees were thrilled with the shirts. My client also mentioned that Gavin Newsome grabbed one of the shirts and thought they were awesome!
What does/did the client appreciate most about our services?
Responsiveness, always going above and beyond, one-stop-shop services.
What was the biggest problem/challenge you faced in closing this sale or delivering this project?
Shirts were out of stock in multiple sizes, it was challenging to find the right color in inventory. The printer dropped the ball and missed telling us they didn't get all sizes on time so they were a day late but he ended up rushing things for us and the client was ok getting the shirts the day before the event.
LINK TO POST ABOUT THIS EVENT: HERE