Earth Day 2023: Divert Corporate Swag from Landfill Through Our New Partnership With SwagCycle
This Earth Day, we are launching a partnership with SwagCycle to help divert promotional products from landfill through charitable donations and/or recycling/upcycling. The first 20 people to sign up for a demo of the latest addition to our sustainable initiatives receive a special Earth Day swag collection of sustainable products.
According to a 2019 Global Ad Impressions Study, branded promotional products are only kept for a year on average. That same study also found 23 percent of corporate swag is thrown away, and more than half were given away. In 2018 alone, the Environmental Protection Agency recorded 146 million tons of waste deposited into landfills. Much of the $64 billion corporate swag industry can easily contribute to the landfill crisis if more sustainable practices are not implemented.
As part of CreativeMC's ongoing sustainability initiatives that are intrinsic to our mission, we are announcing a new partnership with SwagCycle, which we are excited to launch for Earth Day! SwagCycle is a startup focused on responsibly managing the lifecycle of branded merchandise. Leveraging its proprietary network of partners, SwagCycle works with corporate swag companies and companies with obsolete promotional products to repurpose and recycle unwanted branded items in a responsible, ethical, and affordable way.
About SwagCycle
SwagCycle was launched in 2019 to divert branded merchandise from landfills through recycling, upcycling, and charitable donations. Given the worldwide landfill and the numerous negative impacts of producing new products, it is far more beneficial to recycle and reuse merchandise.
If there is uncertainly around how to handle promotional products, we find companies' path of least resistance is to throw it in the trash, and we created SwagCycle to help both the environment and the community."
SwagCycle has several hundred charitable partners domestically and internationally like YMCA, Delivering Good, Giving World, and Dress for Success, and works with recycling and upcycling partners worldwide as well.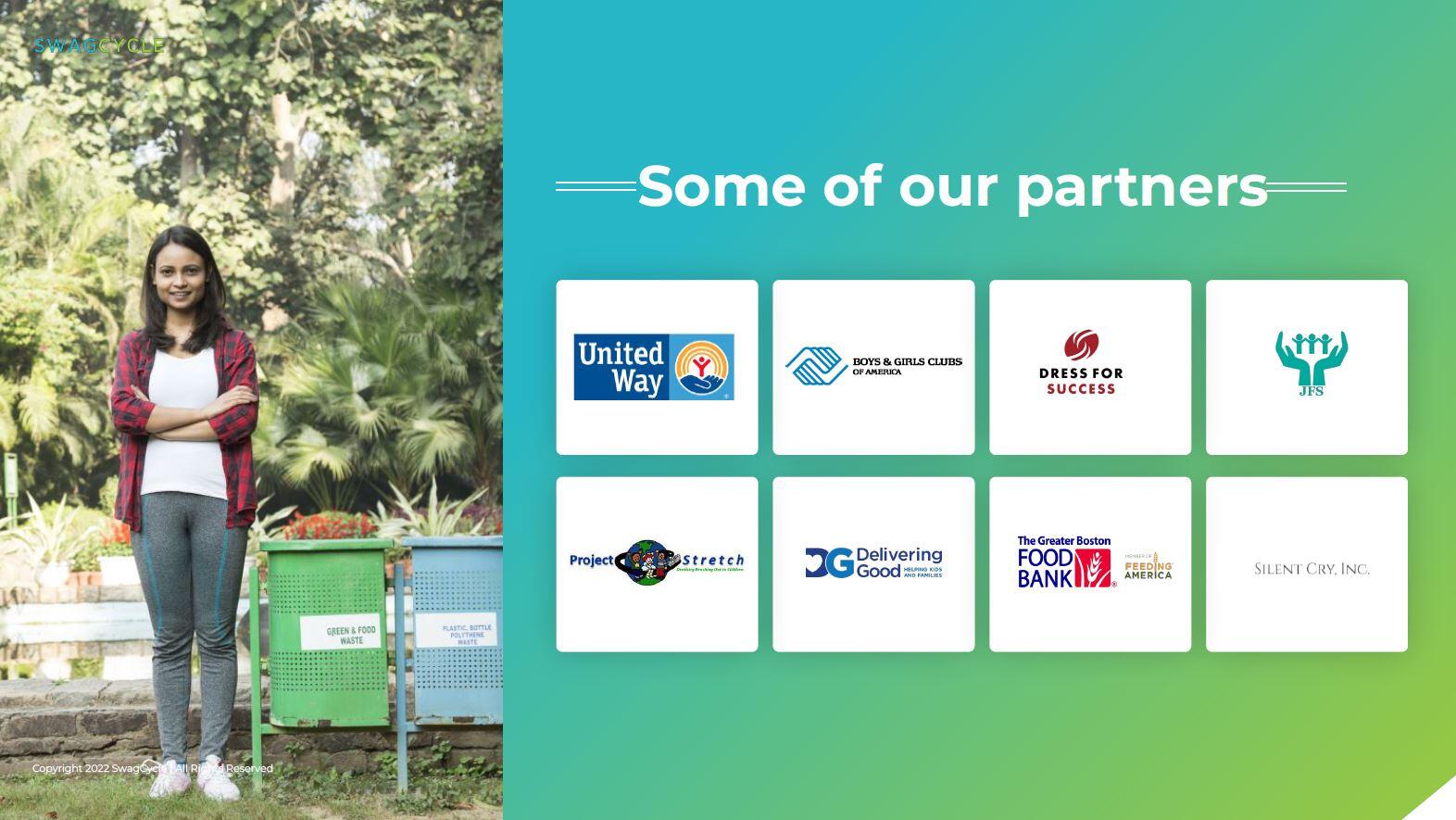 Once a brand determines it has promotional products it would like to dispose of, SwagCycle will work with the company to determine if the goods can live on, considering factors like branding or safety guidelines. If the products can be reused, then SwagCycle will determine a list of potential charitable partners based on a set of parameters, including where the goods are located, if there are any geographic restrictions for redistribution, and if the donor has any corporate values or priorities. It does not charge any fees for facilitating donations other than the shipping costs between the donor and the charity.
If the goods need to be recycled or upcycled, fees vary based on the material being disposed of and the scope of the project. Apparel is the majority of material SwagCycle can recycle/upcycle – given that it is ~35-40% of the swag industry overall – and can be turned into industrial wiping cloths, carpet pad fill, insulation materials, fill for boxing bags, and more. SwagCycle can recycle most materials, and if they can't be recycled (e.g., silicone straws and double-wall stainless steel water bottles), it is usually due to the prohibitive cost.
The company has worked with brands like Facebook when it rebranded to Meta and needed to donate 20,000 outdated items; the YMCA in Houston to source donations from several dozen companies when it supported thousands of Afghani refugees; and more.

As of the publishing of its 2022 impact report, SwagCycle has kept 1,446,085 items out of landfills and sourced $2,669,767 in charitable donations.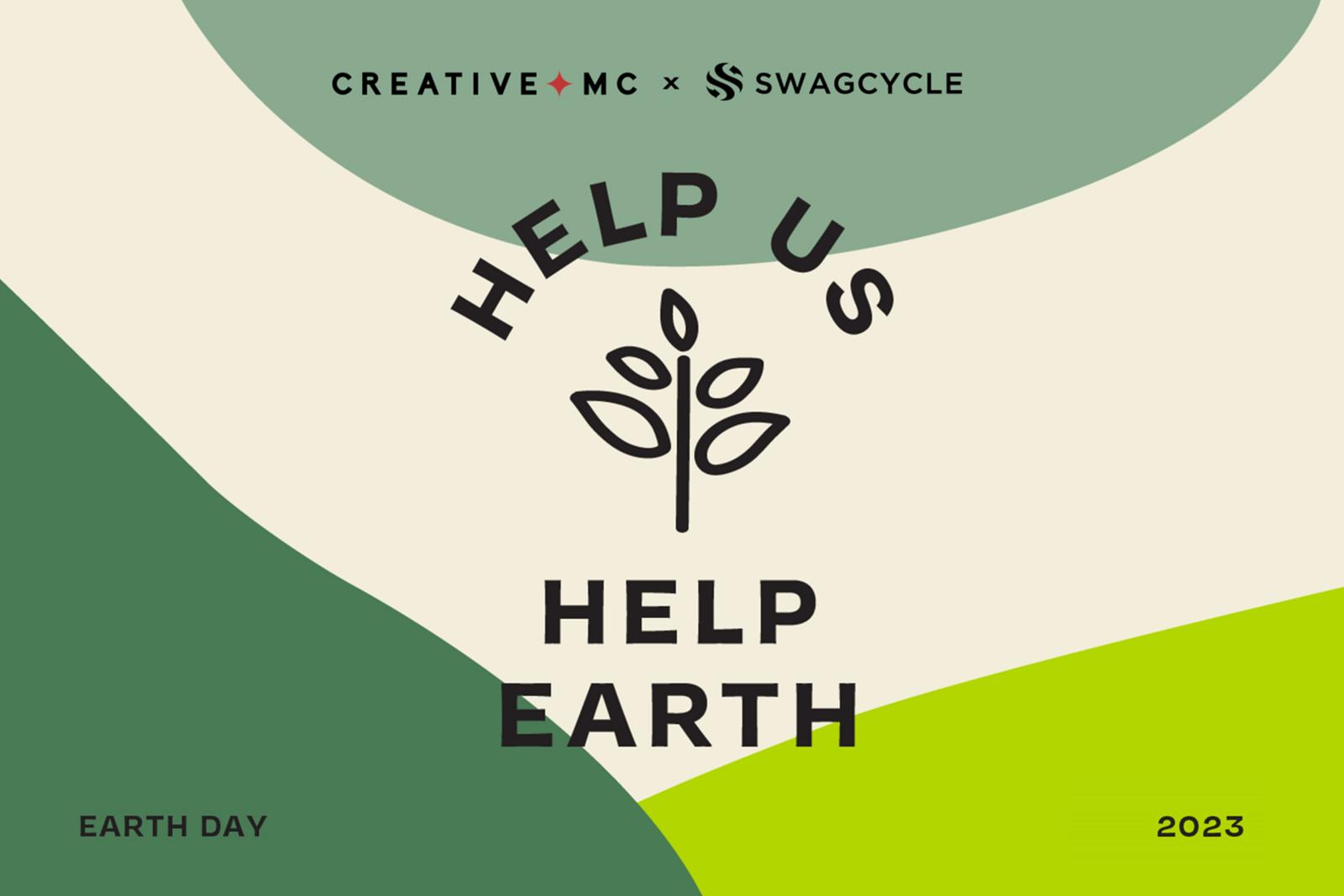 CreativeMC x SwagCycle
Through the CreativeMCand SwagCycle partnership, interested clients, vendors & partners, CreativeMC staff, and more can follow this simple process to coordinate donations or recycling:
Provide a list of unwanted items, indicating quantities and locations, and identify which can live on with charitable partners and which should be recycled.
SwagCycle matches items with the relevant charities and/or recycling partners and estimates fixed costs. CreativeMC provides shipping costs and a PO.
The items are shipped to the SwagCycle partner(s) to execute the approved plan. Charities confirm donations for tax purposes and certificates of completion are provided for all projects.
We hope to be able to assist CreativeMC in helping their clients make the best use of their obsolete branded merchandise and think of the whole product lifecycle. The goal is to create the least amount of waste and get quality products to worthy causes or recycle and upcycle those products, removing friction from the process."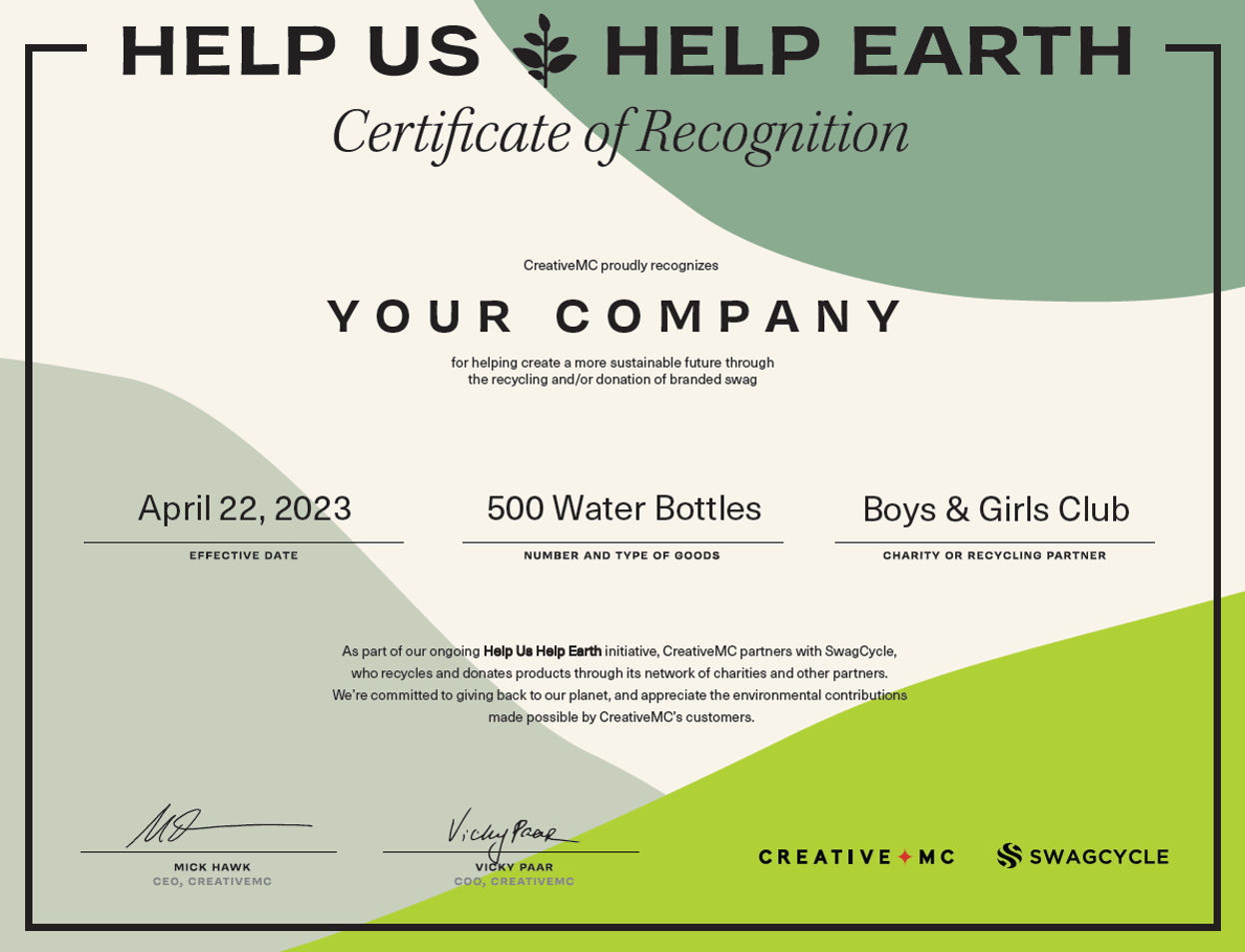 The first 20 people to schedule a SwagCycle introduction meeting will receive the CreativeMC x SwagCycle Earth Day swag collection with a sustainable product from one of our favorite vendors for each of the three sustainable pillars – Reuse, Recycle, and Biodegradable.
Reuse: Olive 500 ML (16 oz) Water Bottle made of glass by bkr
Recycle: Kraft Recycled Hardcover Notebook by chameleon like
Biodegradable: 100% Reclaimed Waste Cotton Tee by Everybody.World
A more sustainable world is a collective effort, strengthened by the expertise and commitment of many, and always evolving. It takes all of us to make a difference. We're pushing the experiment of Everybody.World forward, innovating new materials without virgin resources and building a hyper-local supply chain, but we need the enthusiasm and commitment of people like those at CreativeMC to help us run with it."
CreativeMC's Sustainability Programs
The SwagCycle partnership is the latest in our sustainable endeavors. Through "Help Us Help Earth," our ongoing environmental program, we work with One Tree Planted to plant 10 trees for every eco-friendly product purchased by our clients. As of today, over 2,000 trees have been planted.
We are continuing to expand our Swag for Good program that champions brands and products that are eco-friendly, benefit social impact causes, and support businesses owned by underrepresented communities. We partner with more than 100 brands that offer sustainable products and continue to prominently feature eco-friendly products in campaigns. In our Spring/Summer 2023 Lookbook: Confidence Meets Rejuvenation, more than 50 products across the pages of the lookbook are eco-friendly.
For an in-depth look into why sustainability is so pervasive in the corporate gifts industry, check out our blog:
SUMMARY
To celebrate Earth Day, we are launching our partnership with SwagCycle, which works with companies with obsolete promotional products to repurpose and recycle them.
SwagCycle works with hundreds of charitable and recycling partners domestically and internationally.
Most materials can be recycled, and those that can't are due to prohibitive costs.
For those interested in donating or recycling through SwagCycle, they can followed a prescribed process of 1) determining items, quantities and locations, 2) work with SwagCycle to identify charity or recycling partners, and 3) ship the items to the approved partners and receive a certificate of completion.
The first 20 people who sign up for an intro meeting of SwagCycle will receive the CreativeMC x SwagCycle Earth Day swag collection with the Olive 16 oz Water Bottle made of glass by BKR, 100% Reclaimed Waste Cotton Tee by Everybody.World, and Hardcover Recycled Notebook by chameleon like.
The SwagCycle partnership is the latest in CreativeMC's Help Us Help Earth sustainability initiatives, which features a partnership with One Tree Planted.